Welcome back to another Why This Works post, a series where I show a designed space and talk about what I love. Today's living room is from the home of Cassie Kelley and the design was led by Alex Reid, from the design team at The Studio at One King's Lane. This living space showcases one of my favorite colors in design… blue! Take a look.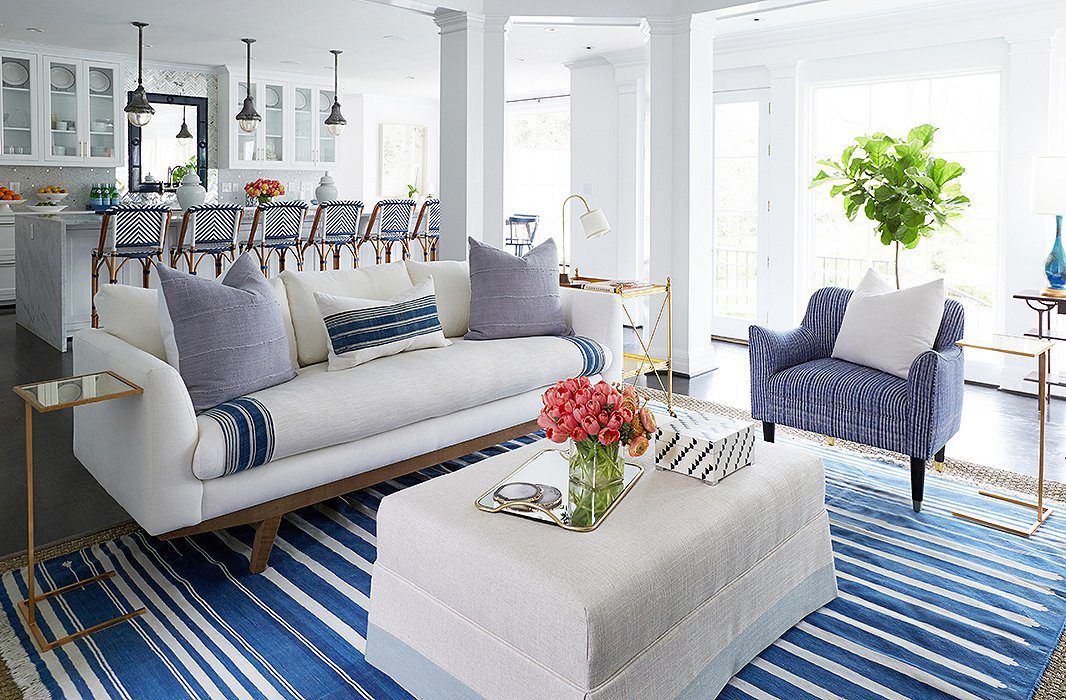 image via
Especially at this time of year, what's not to love about this coastal inspired home? I love the various shades of blue in the room. You don't have to stick to one shade… it's in the mix that makes a space truly feel eclectic and inviting. I am a huge fan of layering to add depth and interest and this is done so well with the striped rug over the natural woven rug. It gives you a chance to add the color and pattern you want, while also having a second rug underneath to help carry the appropriate dimensions. The ottoman and side tables can easily be moved around when needed, making this both a stylish and versatile space. The fiddle leaf fig tree and coral tulips bring the outdoors in and provide new colors to love. I actually love these three colors together in one room. It's my favorite color combination. The mixing of metals with the brass and black/bronze pendants gives a collected over time style and adds character. The white walls, trim and cabinets provides a blank slate for all of the color to come in through the accessories and select furniture pieces. I also love the warm wood detail on the sofa legs and how that balances so well with the metals in the room. Overall, this space works!
What are your thoughts???
I chose this room, because of my live TV segment on Bridge Street TV yesterday. I was on to talk about simple ways to add that laid back, coastal charm to your home. And the main color to use?!? Blue! Check out the video HERE!!