Welcome back to another installment of Why This Works, a series where I show a designed space and discuss why I think it's amazing! Next up is Joy's office studio, from the ever popular blog, Oh Joy! She had worked for years from her own home and decided it was time to have her own studio space. She enlisted the help of Emily Henderson, who created design magic with a colorful and inspiring space. Enjoy!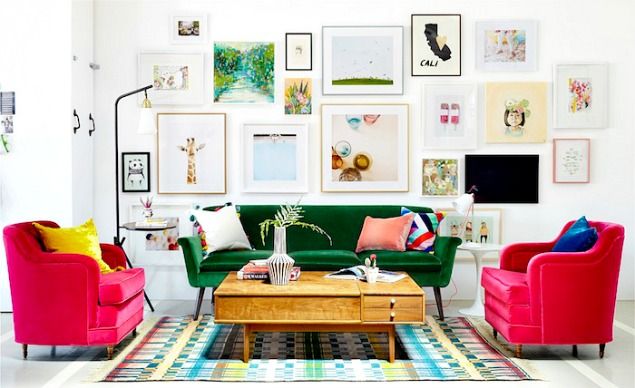 Now if that is not a fun and cheerful space to work, I don't know what is! And although this space was designed a couple of years ago, it still feels so current and spot on. It is a bit of a diversion from my regular style that I blog about here, but that is what I find so intriguing. For a work space, play room or studio, this would be a great way to feel energized and inspired! I have had a thing lately for green velvet sofas, so I might be drawn to this space for that! I also love the dramatic gallery wall. What a great way to draw your eye up and give the illusion of more space. When hanging art, try taking full advantage of the entire wall. Art no longer has to be only at eye level! The white walls and neutral painted floors allows for color in the furniture and accessories. The art is playful and whimsical, which I bet Joy's daughters love! I could definitely be inspired on a daily basis in this room. Emily designed a gem in this space!
What are your thoughts?