Welcome back to another Why This Works post, where I highlight a designed space and discuss why I think it's amazing! Today, IÂ am showing a cozy eating nook in a stunning kitchen. Take a look…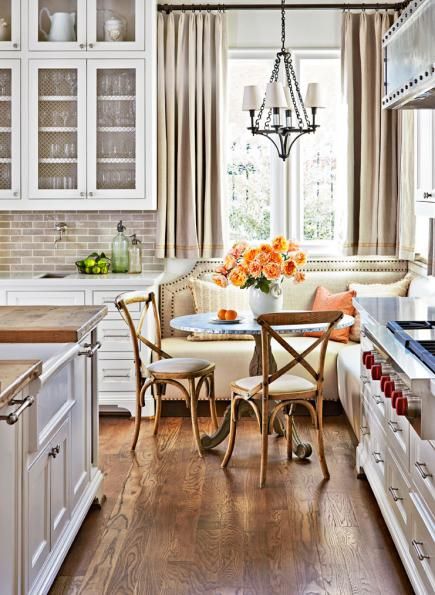 image via
Not only do the white cabinetry, subway tile and warm wood floors get me, but that banquette just makes you want to linger for days! I have been using banquettes in my designs lately and if you have a spot for it, it's the perfect way to bring warmth into the kitchen. This image was found on Midwest Living, for one of their articles about this same topic. When the upholstery is done in an easy to clean fabric, it becomes not only beautiful, but very functional. I also love the pairing of the bistro chairs and metal top table. It provides just the right amount of balance and a collected over time style that I love. I also love the cafe curtains and the softness they bring to the windows. The fresh fruit and flowers provides just the right amount of color to the space, making it a cheery and warm kitchen. The warm butcher block island counter brings a nice balance to the white stone counters on the perimeters. The touches of metal shown in the chandelier and nailhead range brings another texture to the room and makes me want to see more!
What are your thoughts?
A big thank you to blog friend, Emily A Clark, for including me in The Saturday Six series this past weekend. I read her blog every day and I was so excited for the opportunity! My family knew right away, as I yelled, come here, come here! look at this! from the computer room. To check out the post, visit here. You will definitely want to see what else is on the list!
Make sure to come back tomorrow, for a fun announcement!! Eeeeek!!